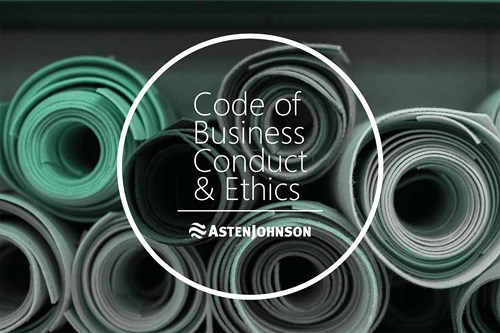 Letter from AstenJohnson CEO

As a company with a history of over 200 years being the trusted experts in delivering value to our customers and shareholders, AstenJohnson is proud of both its heritage and its future prospects. Our record of success is built upon the dedication, commitment, and hard work of our many associates around the world. And we know that our future success will continue to be guided by our core values of Safety, Excellence, Integrity, People and Sustainability. They define our common culture in the many different countries in which we live and work. As part of this legacy, we must perform our duties in a responsible, loyal, and ethical manner. We strive to create an environment of trust and honesty inside and outside of our Company by treating everyone with respect and dignity.
These core values are reflected in our Code of Business Conduct and Ethics. The Code emphasizes our commitment to conduct our affairs in accordance with the highest standards of Integrity and all applicable laws. It is not a detailed rule book that addresses every situation we may face in the future. Instead, it establishes a framework for decision making and provides us the tools and information we need to make business decisions with Integrity every day in every country where AstenJohnson operates.
In order to preserve the AstenJohnson legacy for future generations in this ever-changing world, every Director, Officer and Associate must comply with the Code.
If you see something, say something.
The Code provides many different channels for guidance and to address concerns. We are blessed with a powerful group of over 2,000 associates globally who will carry the Company forward to further success if we stay true to the AstenJohnson core values.

Kevin Frank CEO
See the full policy in English. 
Přečtěte si celou politiku v češtině
Siehe die vollständige Richtlinie auf Deutsch
Voir la politique complète en français

Chákàn wánzhěng de zhōngwén zhèngcè
Anti-Bribery policy in English
Anti-Korruptions-Politik auf Deutsch
Politique anticorruption en Français
Antikorupční politika v Češtině
Seeking guidance and reporting issues
Seeking Guidance
If you have any questions about this Code or any concerns as to whether certain conduct may be illegal or unethical, you are encouraged to immediately request assistance by contacting your Supervisor, Site Leader, Associate Services team member, Vice President – Business Support, General Counsel, CCO, or by contacting the Company's confidential Compliance Hotline powered by third party vendor EthicsPoint at http://www.astenjohnson.ethicspoint.com. The Hotline is operated by a third party and is available 24 hours a day, seven days a week. Representatives fluent in many languages are available. From an outside line dial the OneConnect number for your location:
Belgium 0800 70 839
Canada 1-(844) 919-0499
China 400 120 3553
Czech Republic 800 144 326
Singapore 800 492 2297
United States 1-(844) 919-0498
If you are a remote worker or do not reside in one of these countries, we encourage you to use the online reporting tool. If you choose to make a phone report you may use the United States phone number but long distance charges may apply.