Advanced Fabrics integrates our longstanding woven belt expertise with a deep manufacturing knowledge to service customers beyond the world of pulp and paper. As a global supplier to the nonwovens industry, the experts at Advanced Fabrics supply products for all web processing needs, including a full line of high performance forming, drying, conveying, dewatering and bonding fabrics.
Further, the Advanced Fabrics portfolio supplies conveyer and filtration products for many other industrial applications, such as board manufacturing, wastewater treatment, food & beverage production and mining. Marked by innovations like MonoZip seam technology, Advanced Fabrics drives manufacturing processes across industries and around the world.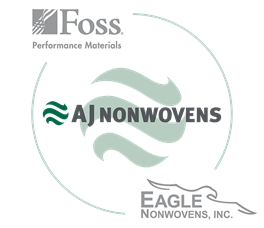 AstenJohnson recognized that nonwoven performance textiles needed dedicated focus, and in 2014 acquired Eagle Nonwovens in St. Louis, Missouri. As demand continued to grow, AstenJohnson acquired Foss Performance Materials in Hampton, New Hampshire. Today, Eagle and Foss are still active and operate together as AJ Nonwovens. They have the strength of 230 years of stability, and the financial support to remain strong in the future.