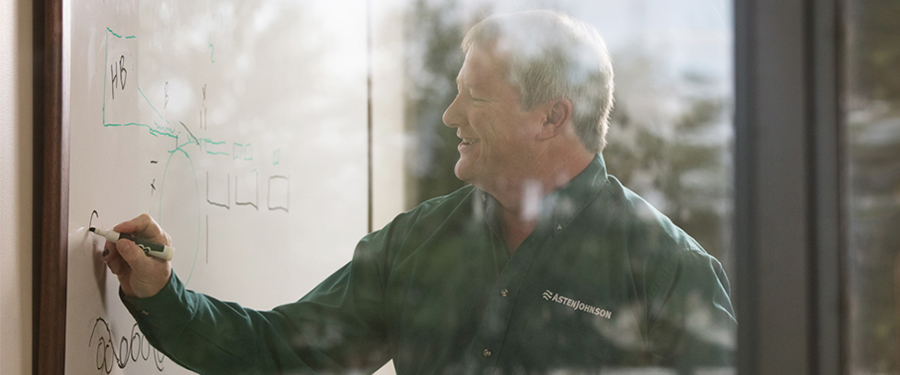 A class of our own.
We're committed to investing in the education of future papermakers. That's why we founded AJ University. Offered since 2005 at our Charleston, South Carolina headquarters, AJ University is a unique series of classes and coursework designed to instruct papermakers of all experience levels on the nuances of clothing, equipment, machine analysis and diagnostics. In addition to traditional classroom instruction, our roundtables and seminars provide attendees with a forum for discussing the issues they face day-to-day and sharing best practices across our industry.
"
Attending an AstenJohnson-led forum gave me the opportunity to network with other papermakers, learn from their processes and troubleshoot the issues we face day-to-day. I came away from the experience with new ideas and a renewed enthusiasm for the work I do.
2016 Attendee, Mill Manager USA
"
I loved the fact that the theory was first discussed, but then also shown how it applied to the machine and how it could be controlled. I left AJU with a lot of things to bring back to the mill and apply right away.
2016 Attendee, Technical Specialist China
"
Fantastic week! It is uncommon, at other events like these, for each and every presenter to not only be knowledgeable, but also have the presentation skills to keep everyone engaged. That was certainly the case at AJU.
2016 Attendee, Mill Manager Europe
Upcoming AJU Courses
Papermaking Fundamentals Packaging Grades Course
September 24-28, 2018
Charleston, SC
This training session has been created to address the needs of individuals relatively new to papermaking, those with one to five years of experience in a mill. This training is well suited for new process engineers and technicians as well as new machine operators and new shift managers. Additionally, those with extensive hands-on experience but little formal technical training will benefit from this session.
Details
AJU Pulp Machine - Operation & Optimization
September 10-13, 2018
Charleston, SC
This intensive 2 ½ day session is designed for individuals who are operationally focused such as Superintendents, Machine Managers, Process Engineers or other leaders. The course material which is used to facilitate discussion also makes this training extremely valuable for Pulp operations leaders with a non-machine background. The class size is limited (20 max) to maximize discussion and interactions.
Details